The product style in the video is only to show the effect of the product, please refer to the picture for the specific product style.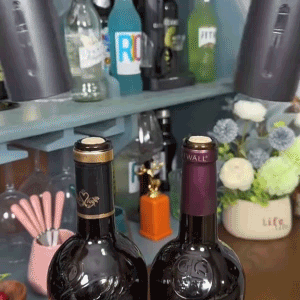 Now you can enjoy the pleasure of fine wine with unmatched convenience!
We proudly present this electric wine corkscrew for a fast and smooth corkscrew experience.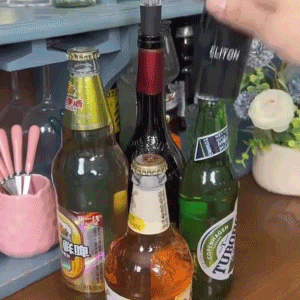 Just press a button, you can easily solve the problem of opening wine bottles.
Its elegant design not only adds a touch of style to your dining table, but also serves as a highlight for family gatherings and gatherings.
Let us help you easily open the red wine bottle, and enjoy the happy mood of every good wine!
Features:
The shell of the electric bottle opener is designed with ABS plastic material, combined with fashionable curve design, with exquisite appearance and high quality. Transparent small window design to visualize the bottle opening process.
After opening the mouth of the sealed red wine bottle with a tin foil knife, you only need to align the electric bottle opener with the mouth of the bottle and press the button switch to quickly remove the cork. Align the wine pourer with the mouth of the bottle and pour it into the wine glass. If you can't finish a bottle of wine, you can also use our vacuum plug to preserve the wine. This multifunctional electric bottle opener set considers every detail for you, so that you can enjoy the joy of red wine better.
The single-button operation of the electric wine opener is easy to use. Elegant looking, it complements the dining table and is the perfect outfit for family gatherings and gatherings.
We have a variety of styles for your choice. Manual beer bottle opener, mini size, quick and convenient opening, practical and easy to carry. Electric wine corkscrew set with complete tools and strong practicability. You can buy according to your needs.
Exquisite gifts. Our electric wine bottle opener set is high quality and practical, suitable as housewarming gifts, birthday gifts, Christmas gifts, Thanksgiving gifts. It is a beautiful gift.
Product Information
Main material: ABS plastic.

Style: Manual beer corkscrew (style 1), Electric wine corkscrew set (style 2), Manual beer corkscrew + Electric wine corkscrew set (style 3).

Colour: Black.

Size: Please refer to the picture.

Suitable batteries for the electric bottle opener: 4pcs AA batteries. (Due to restrictions on logistics and transportation conditions, this product does not contain batteries.)

Scope of application: It is widely used for opening bottles of wine, beer, wine, champagne and other drinks.

Purchase Notice: The picture is only for display effect, and does not include red wine and other accessories.
Notice
Due to different shooting angles, light and monitors, the actual product may be different from the picture, please understand.

Manual measurement, please allow 1~2cm error.

If you have any questions, please contact our store customer service, and we will help you solve the problem.